Why Soft Washing is the Best Choice for Your Home Exterior
A well-maintained home exterior doesn't just improve curb appeal—it also increases your property's value and extends the lifespan of your home's surfaces. But, not all cleaning methods are created equal. At APro Pressure Washing, we believe in the power of soft washing, a gentle yet highly effective exterior cleaning method.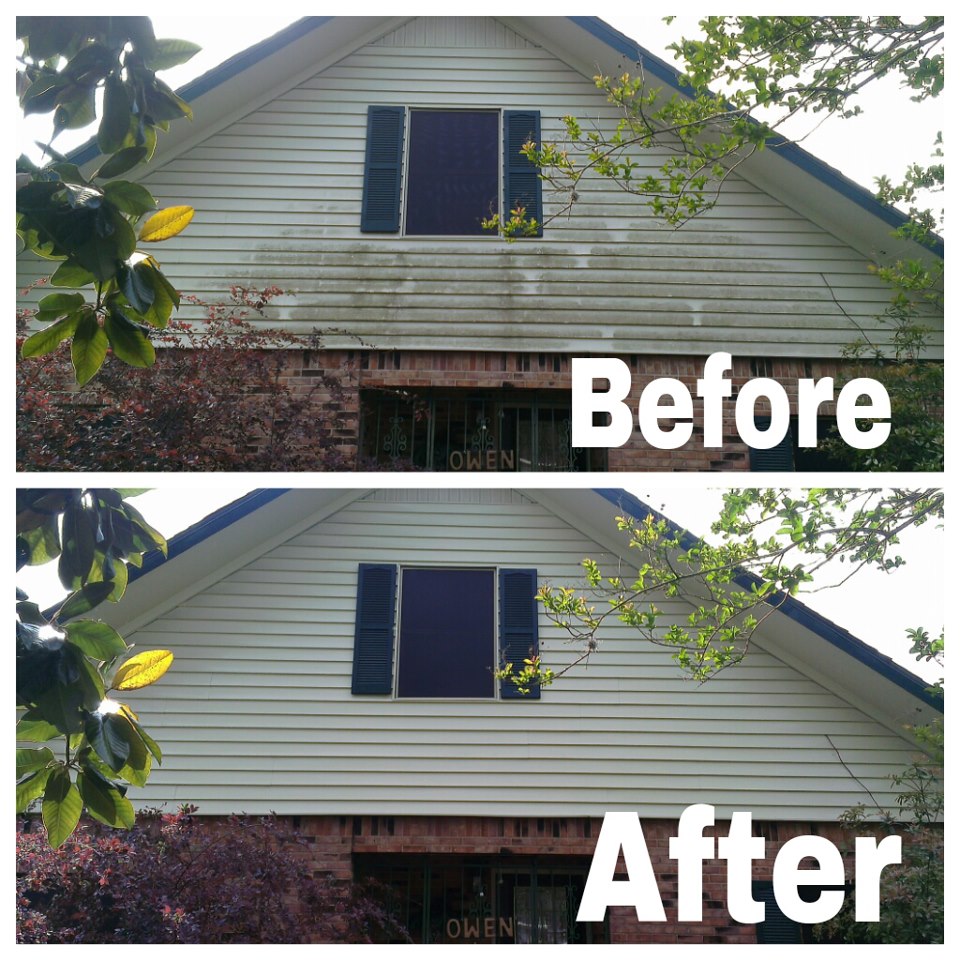 Understanding Soft Washing
Unlike traditional pressure washing, which uses high pressure to blast dirt and grime off surfaces, soft washing utilizes a low-pressure technique. The secret to its effectiveness lies in the combination of this low pressure with a blend of eco-friendly cleaning solutions. These solutions penetrate deep into the surface, breaking down dirt, mold, mildew, algae, pollen, rust, and other residues that may be harming your home's exterior.
Safeguarding Your Home's Structure
High pressure washing, while effective at removing surface-level dirt, can sometimes cause more harm than good, especially when used on sensitive surfaces like stucco (EIFS), vinyl siding, painted exteriors, trim, wood, Hardi Plank, and more. It can strip off paint, damage siding, and even etch into the surfaces, leading to costly repairs.
Soft washing, on the other hand, is gentle yet efficient. It can clean virtually all exterior surfaces without causing any damage. It doesn't harm paint or mortar, and it doesn't etch surfaces. With soft washing, you can have peace of mind knowing that your property is in safe hands.
Achieving a Deeper Clean
One of the biggest advantages of soft washing is its ability to provide a deeper clean than traditional pressure washing. The cleaning solutions used in soft washing do more than just wash off surface dirt—they kill the mold, mildew, and algae that can cause long-term damage to your home. This results in a clean that lasts longer, reducing the frequency of needed washes.
Protecting Your Health and the Environment
The build-up of mold, mildew, and algae isn't just unsightly—it can also pose health risks to you and your family. Soft washing removes these harmful substances, improving the overall health of your living environment.
Moreover, the cleaning solutions we use at APro Pressure Washing are eco-friendly, ensuring that we're not just protecting your home, but also the environment.
Streamlining Home Maintenance with APro Pressure Washing
At APro Pressure Washing, we offer more than just a standard cleaning service. Our soft washing service includes cleaning everything below the roof—exterior of gutters, roof overhang, painted trim, siding, and more.
Our process is straightforward and convenient. We provide an upfront consultation and a written estimate of costs, so you'll know exactly what to expect. Operating seven days a week, we work around your schedule to ensure the cleaning process is as seamless as possible.
Your home is one of your biggest investments, and preserving its exterior should be a top priority. Soft washing provides a safe, effective, and lasting solution for maintaining your home's exterior, boosting curb appeal, and extending the life of your surfaces.
If you're ready to discover the benefits of soft washing for your home, contact APro Pressure Washing today. With over 25 years of service in the Greater Houston area, we are the trusted choice for all your exterior cleaning needs.