Pressure Washing for Shopping Centers
As a business owner, you know how important it is to manage your curb appeal and keep your property looking nice. The exterior of your business is the first thing your guests see. Knowing that first impressions are the key to successfully attracting the right kind of attention, you would never want your property to look dirty, stained, or graffitied, or to allow surfaces to remain covered in old chewing gum. APro Pressure Washing offers commercial pressure washing services for shopping centers to help your business stand out again. We professionally remove the dirt and grime that draws attention away from your property and get your storefront looking the way it's supposed to.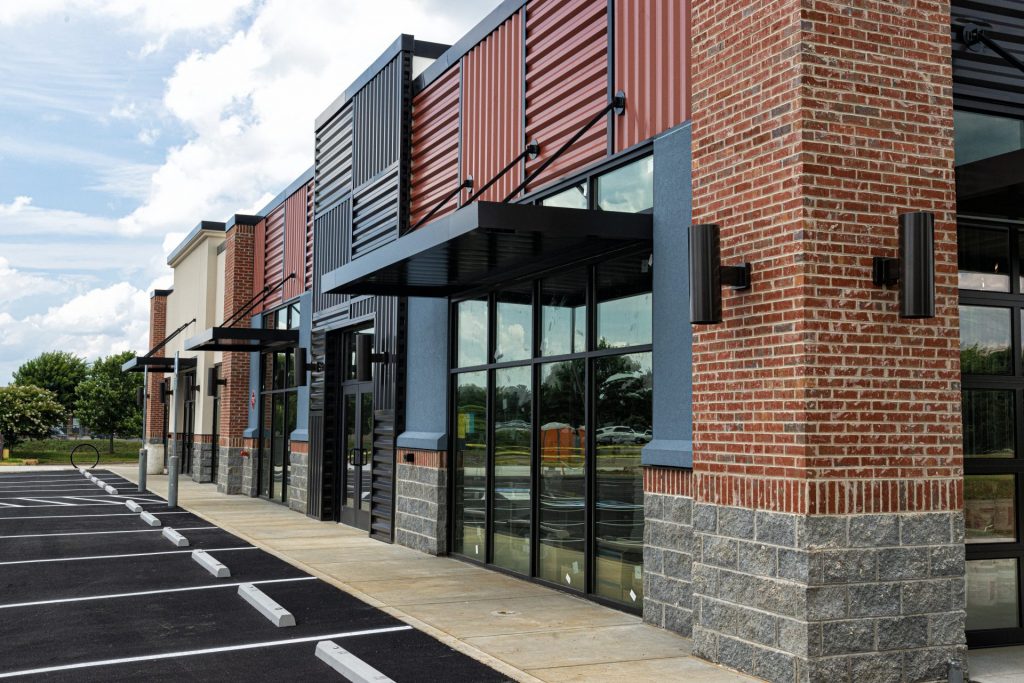 Cleaning Specifically Designed for Your Needs
APro knows how demanding running a business is. That's why we'll work around your schedule to accommodate the needs of your employees and your customers.
There are a variety of surfaces that require cleaning outside of a shopping center. This includes any outdoor seating like benches, tables, and chairs; sidewalks that collect stains and chewing gum remnants; and dumpsters that include built-up scum that produces foul odors. There are also live pests like wasps or spiders that create homes on overhangs or signage and in common areas. These are all things that can drive away customers and even create an unsafe environment. When you contact us, we'll make sure all of these problems are taken care of effectively so that your storefront will remain inviting and provide visible results.
Why Our Pressure Washing Approach is so Effective
We are extremely proud of our top-of-the-line pressure washing service that we've tailor specifically for shopping centers. We know that your storefront is one of the first things customers notice about your business. We are aware of how important it is for us to keep your property looking refreshed and clean. Here at APro Pressure Washing, we have the right equipment, team, and experience to know exactly what needs to be done. We know how to adapt our pressure washing to any surface to prevent damage or harm to your property. Pressure washing is the most effective technique when cleaning a storefront. It can access any hard-to-reach place and safely remove any kind of residue or pests that may reside outside, making it one of the quickest and ideal ways to get rid of anything that might affect your business negatively.
We'll Get You Back in Business
If your storefront is starting to look drab, APro Pressure Washing is the place to call. With 20 years of experience and our professional equipment, we'll have your business looking clean and welcoming for your guests. If you're located in or around Houston, contact us and let us partner with you to increase traffic, revenue and overall safety.
Power Wash Houston
Ready for a
Clean

Look?

APro Pressure Washing is the EXPERT in increasing your Commercial curb appeal!