Need Chewing Gum Removed Fast?
APro Pressure Washing offers gum removal service in Houston, Texas, and its surrounding areas. The remnants of gum are a common issue for most commercial properties. It's unsightly and can invite others to add to it if it's not cleaned up quickly, resulting in property that looks messy and unkept. It should also be removed as soon as possible due to the chemical composition of most chewing gum. When gum remains on a surface for a long time, there is a higher possibility of staining. Overall, this drives potential customers and clients away from your business instead of drawing them in. To prevent this, APro Pressure Washing offers trained professionals to remedy this unattractive problem for you. Contact us now, and we'll work fast to keep your property looking tidy and clean.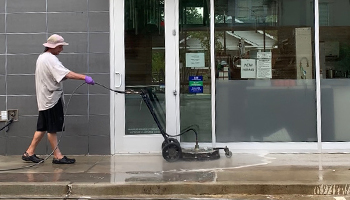 Gum Removal Technique
The most effective and safest way to remove gum from a surface is by pressure washing. APro uses a cold water pressure system to efficiently remove gum without harming surfaces like concrete. Concrete is one of the most common places covered in old chewing gum. If pressure washing is not done properly, it can etch the concrete before removing the gum, and etching is impossible to fix. That's why it's important for us to revive your property using the correct approach.
Important Things To Know About Pressure Washing & Removing Gum
Still have questions? Visit our FAQs for more information. If you're dealing with surfaces covered in unsightly chewing gum in Houston or the surrounding areas, APro Pressure Washing's experienced staff can help you quickly manage the problem. Old chewing gum detracts from your business' curb appeal and can drive people off. Contact us to get your free estimate today, and we'll get your property looking the way it's supposed to!
Power Wash Houston
Ready for a
Clean

Look?

APro Pressure Washing is the EXPERT in increasing your Commercial curb appeal!