You home is likely the largest investment you will ever make. It makes sense to protect it. It is where you spend the majority of your time and where you receive family and guests. Why not do what you can to keep it looking its best? Regular pressure washing is an important step in responsible home maintenance. It can prevent stains and other surface damage from forming and will extend the life of your home, Pressure washing is the ideal cleaning modality for siding, outdoor living areas, sidewalks, driveway and more. A clean home is inviting to guests, boosts curb appeal, and, well, generates some pretty powerful homeowner pride and admiration. Clean is good place to be, and APro Pressure Washing is your dependable, professional partner for getting, and keeping, you there.
The Power Washing Process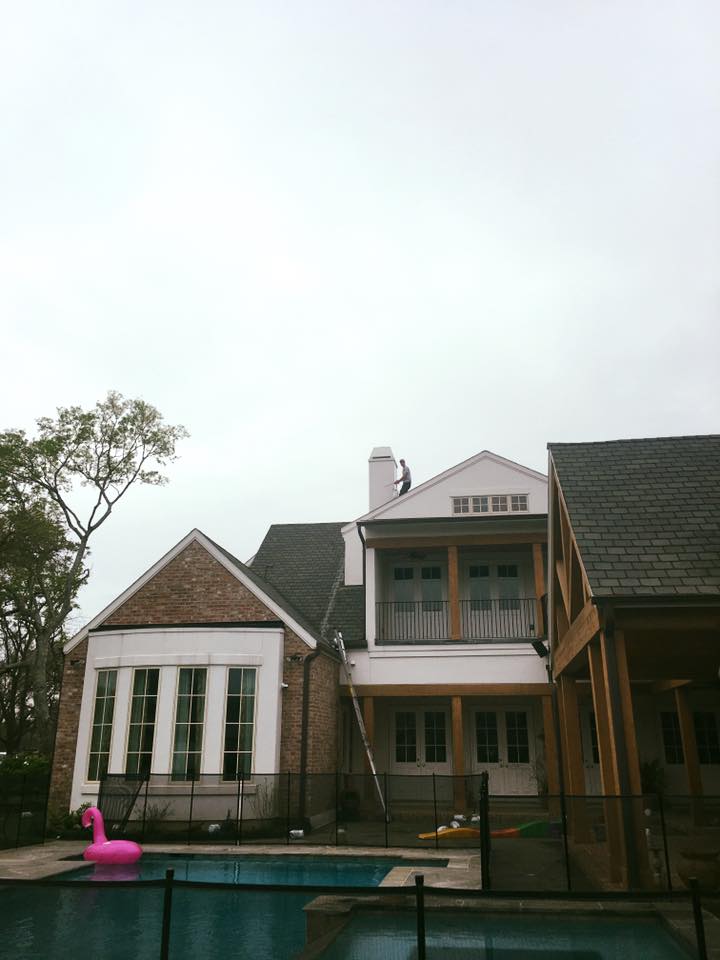 Pressure washing involves sending water through a special nozzle, or nozzles, at a high pressure via a motorized pump. Putting out a water stream of 1500 psi or more, depending on the job at hand, our pressure washing equipment brings the power needed to remove all the common dirt and debris offenders, including: mold, mildew, dirt, grime, gum algae, rust and oil. Pressure washing is an excellent surface prep; it is an ideal solution for removing old paint prior to refinishing or cleaning a concrete floor before epoxy or stain application.
The handheld pressure washers used by our technicians provide ease of portability but deliver the power needed to get the job done right. These units function well in compact areas and are often used to clean elevated areas of the home. Height is not an issue for the professionals at APro Pressure Washing. For most flat surfaces, we use modern, full-sized hand driven surface cleaners and can complete driveway, sidewalk deck jobs and the like quickly and efficiently.
APro Pressure Washing also specializes in soft wash house washing, a low-pressure, damage free cleaning process for the exterior of your home. Don't let the name fool you, soft wash house washing can remove the tough stuff. By using proven chemical agents to kill and break down mold and mildew, a soft wash is going to knock off the undesirables without damaging paint, stucco, mortar, stone, wood or HardiPlank cement siding.
Our technicians are trained in all the equipment and pressure washing processes available for use today and will determine the best fit for the various components of your home.
What We Pressure Wash
Our pressure washing services are effective at cleaning most exterior surfaces, with results that are sure to exceed expectations. In so many cases, our clients don't even know the true potential of their surface's appearance. More than one customer has told us that our cleaning of their house siding has resulted in a look akin to a fresh coat of paint. And that's delivered with only a fraction of the cost of a new paint job! We love to delight, and in our line of work it happens more often than not.
We clean:
Roof Washing
Gutter Cleaning
Driveway Pressure Washing
Trim and overhangs
Siding, including brick, vinyl, HardiPlank cement siding, stucco and wood
Sidewalks
Decks
Fences
Pools
Stone surfaces, including flagstone and limestone
APro Pressure Washing is family owned and has been in business since 1995. We hate to brag about the work we do, but thankfully many of our past customers have been happy to share their satisfaction with our work. You can check out some of our before and after pictures to see what a good washing can do for your home! Contact us today for a free assessment and quote. Let's get to cleaning.