From sidewalks to driveways, patios to porches, concrete is a common material used in modern construction. With admirable features, including strength, durability and relative affordability, it's a smart choice for home and commercial builders. And yet, given it's physical composition, concrete is a highly porous surface and will, over time, absorb dirt, liquids and other debris that can mar its appearance. However, if regularly cleaned, your concrete surfaces will maintain their pristine appearance and structural integrity. For over 25 years, APro Pressure Washing has been cleaning concrete surfaces for our residential and commercial clients. With our expert power washing service, you can be certain you're capitalizing on your property's appearance and protecting the investment you've made in your home or business.
Concrete Pressure Washing Removes What You Don't Want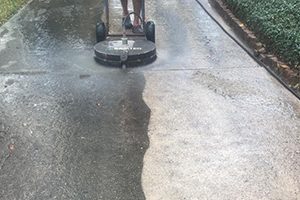 Pressure washing is the most effective way to clean concrete surfaces, and it produces impressive results. Our clients are often amazed at the difference a good cleaning can make. We invite you to check out our before and after pictures to see for yourself.
Using professional-grade equipment and proven cleaning agents, APro's pressure washing effectively removes:
dirt, pollen, sap and other organic debris
leaf stains
potted plant rings
most oil, gasoline and other industrial liquid stains
gum and food residue
mildew, moss and mold
Concrete Cleaning Goes Beyond the Aesthetic
Regularly cleaning your concrete will keep your property looking its best, but the benefits are more than superficial. Pressure washing your concrete:
protects the structural integrity of the concrete surface
helps prevent slips and falls
lessens foot-traffic-carried allergens and dirt in the home or business
ensures a chemical-free surface for foot traffic
discourages pests otherwise drawn to sugary and sticky substances
Boost Real Estate Value and Curb Appeal
Concrete cleaning is an easy and affordable service that protects your real estate investment. Because concrete pressure washing makes such an impact, we're commonly asked to pressure wash concrete surfaces to prep real estate for sale. Commercial real estate owners seek our professional concrete power washing to fortify their customer service. Many clients schedule our services at regular intervals to ensure their property looks its best year round.
Contact us for Proven Concrete Pressure Washing
We invite you to join the hundreds of satisfied customers who trust us to get – and keep – their homes and businesses looking their best. Family owned and operated, we're open 7 days a week to serve you. Eager to see just how clean quality, professional pressure washing can get your exterior surfaces? Contact us today to discuss your home or business.