The appearance of your place of business reflects the quality of your business. It is important to keep a clean image, be it the storefront, a workshop or a display area. A bright, tidy appearance draws potential customers into your place of business and keeping your business clean also protects the investment in your commercial real estate. Regular commercial power washing can keep the exterior of your business clean and it makes good business sense.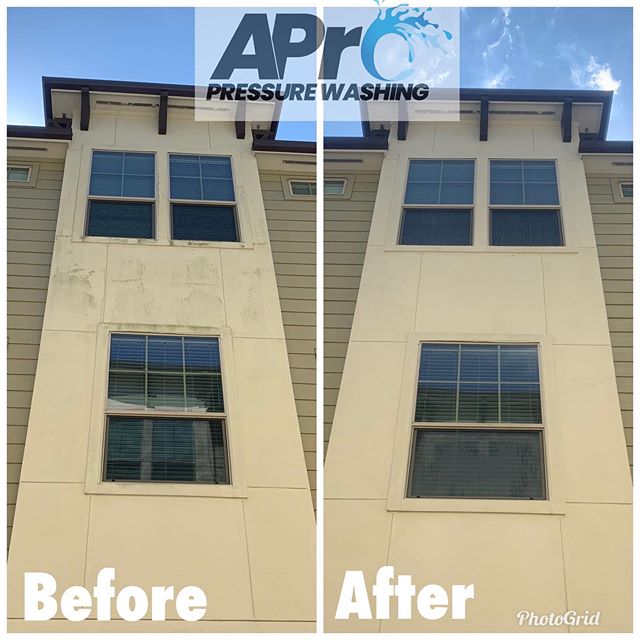 The Commercial Power Washing Process
Pressure washing involves sending water through a special nozzle, or nozzles, at a very high pressure via a motorized pump. Putting out a water stream of 1500 psi or more, depending on the job at hand, our pressure washing equipment brings the power needed to remove all the common offenders, including: mold, mildew, dirt, grime, gum, algae, rust and oil. Pressure washing is an excellent surface prep; it is the ideal solution for removing old paint prior to refinishing or cleaning a concrete floor before epoxy or stain application.
The handheld pressure washers used by our technicians provide ease of portability but deliver the power needed to get the job done right. These units function well in compact areas and are often used to clean elevated areas of a structure. Height is not an issue for the professionals at APro Pressure Washing. For most flat surfaces, we use modern, full-sized hand driven surface cleaners and can complete driveway, sidewalk, decks and the like quickly and efficiently. We understand the impact downtime can have on your business so we work with our customers on the timing of our work.
APro Pressure Washing also specializes in building soft washing, a low-pressure, damage free cleaning process for the exterior of your business. Don't let the name fool you, soft wash washing can remove the tough stuff. By using proven chemical agents to kill and break down mold and mildew, a soft wash is going to knock off the undesirables without damaging paint, stucco, mortar, stone, wood or HardiPlank cement siding.
Our technicians are trained in all the equipment and pressure washing processes available for use today and will determine the best fit for the various components of your place of business.
What Our Commercial Pressure Washing Services Include
APro Pressure Washing can clean all the common building exteriors found today. But, we go beyond the exterior structure and storefront, providing effective cleaning for sidewalks and walkways, decks, fences, roofs and pools. Staying true to our area, we're experienced in cleaning oil rigs and other large equipment common in the oil and gas industry, as well. Our jobs include:
Storefronts
Sidewalks
Carports
Roofs
Pools
Siding, including vinyl, brick, HardiPlank cement siding, wood, cedar and stucco
Decks
Fences
Stone Surfaces and monuments, including those built from brick, flagstone and limestone
What We Can Remove
Pressure washing is effective in removing all sorts of buildup. We can address:
Dirt and dust, even the dried up, caked on variety
Mold, algae and mildew
Stains from leaves and debris
Gum from sidewalks
Stains from fluids leaked from vehicles
Most all of that "ick" not otherwise specified that comes with the territory of being open to any and all foot traffic. We get it. We've seen it. We remove it. APro Pressure Washing is family owned and has been in business since 1995. Check out some of our before and after pictures to see what a good washing can do for your place of business, or read what some of our customers have had to say here. Contact us today for a free assessment and quote. Let's get you ready to delight your own customers.